Sólo por Internet

¡En oferta!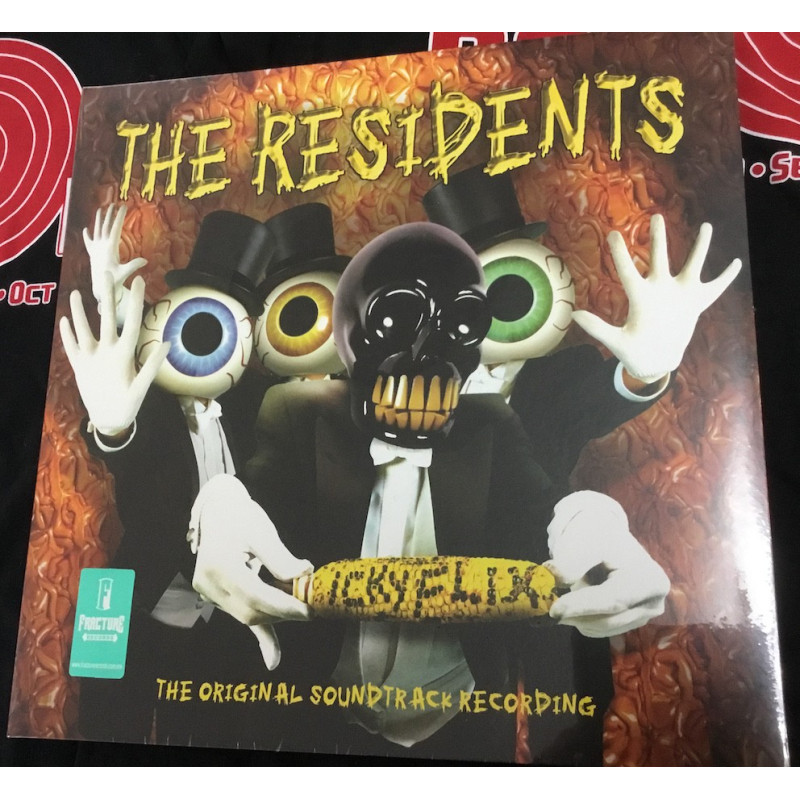  
THE RESIDENTS-ICKY FLIX: SOUNDTRACK (2-12INCHES/ORANGE & YELLOW VINYL/GATEFOLD) [RSD DROPS SEP 2020] VINYL
2 VINYLOS RECORD STORE DAY DROPS SEP 2020. BODEGA
Label:
New Ralph Too – NRTLP 014D, Cherry Red – NRTLP 014D, MVD Audio – NRTLP 014D
Series:
The Residents pREServed
Format:
Vinyl, LP, Yellow
Vinyl, LP, Orange
All Media, Album, Limited Edition, Reissue
Style:
Avantgarde, Art Rock
POLITICA DE ENTREGA Y PAGO
100 % SEGURO
DEVOLUCION
DEVOLUCION
2 VINYLOS RECORD STORE DAY DROPS SEP 2020.
Esta pieza se encuentra en bodega; no la llevamos al Chopo. Si deseas adquirirla, te pedimos de favor la solicites al correo fracturerecordsmatriz@gmail.com dentro de la tienda en línea www.fracturerecords.com.mx. En este caso, es importante que generes tu cuenta; posteriormente coloca la pieza en la cesta y, en donde se indica "Forma de pago", dirígete a Recoger En Tienda Chopo o si quieres el envío se puede proceder de manera inmediata.
FIRST TIME EVER RELEASE FOR THE COMPLETE ALTERNATIVE SOUNDTRACK TO THE GROUP'S SEMINAL 2001 VIDEO COLLECTION BRILLIANT STUDIO RE-INTERPRETATIONS OF CLASSIC MATERIAL, INCLUDING 'HELLO SKINNY', 'CONSTANTINOPLE', 'THIS IS A MAN'S MAN'S MAN'S WORLD', THE 'ONE MINUTE MOVIES' AND MORE 2LP SET PRESSED ON ORANGE AND YELLOW VINYL AVAILABLE IN LIMITED QUANTITIES WORLDWIDE
Released to mark the turn of the new millennium in 2001, the "Icky Flix" DVD showcased The Residents' award winning videos in glorious technicolor. To accompany those icky old films, the group also produced brand new recordings of each of the twenty songs, providing an alternate new soundtrack to some otherwise ancient visual material.
Inspired in places, plain ridiculous in others, "Icky Flix – The Original Soundtrack Recording" now brings together those Residential classics in their unedited entirety, as reworked by the group and singer Molly Harvey in the year 2000.
Familiar to fans, enticing to the curious and just too damn weird to everybody else, this is The Residents up to their old tricks again, reworking some of their favourite old tunes in their own style. Whether or not some members of the group ever realised they'd recorded the originals of those tunes in the first place is anybody's guess.
Available exclusively for Record Store Day 2020, on coloured vinyl and in limited quantities worldwide.


SIDE A
1. ICKY IN?, 2. THE THIRD REICH & ROLL, 3. CONSTANTINOPLE, 4. HELLO SKINNY, 5. KICK A PICNIC, 6. MOISTURE, 7. ACT OF BEING POLITE, 8. PERFECT LOVE, 9. SIMPLE SONG, 10. SONGS FOR SWINGING LARVAE 
SIDE B
1. WHERE IS SHE?, 2. VILENESS FATS (CONCENTRATE)
SIDE C
1. THIS IS A MAN'S MAN'S MAN'S WORLD, 2. STARS AND STRIPES FOREVER, 3. HARRY THE HEAD, 4. JELLY JACK THE BONELESS BOY, 5. THE GINGERBREAD MAN (CONCENTRATE) 
SIDE D
1. HE ALSO SERVES, 2. BAD DAY ON THE MIDWAY (CONCENTRATE), 3. JUST FOR YOU (DISFIGURED NIGHT PART 7), 4. BURN BABY BURN, 5. ICKY OUT!
Si no encuentras lo que buscas, por favor ve a "CONTACTAR CON NOSOTROS" o escribe un correo a fracturerecordsmatriz@gmail.com y pregúntanos por tu artículo. Muchos de ellos los trabajamos de manera personalizada.
Los precios están sujetos a cambios sin previo aviso.