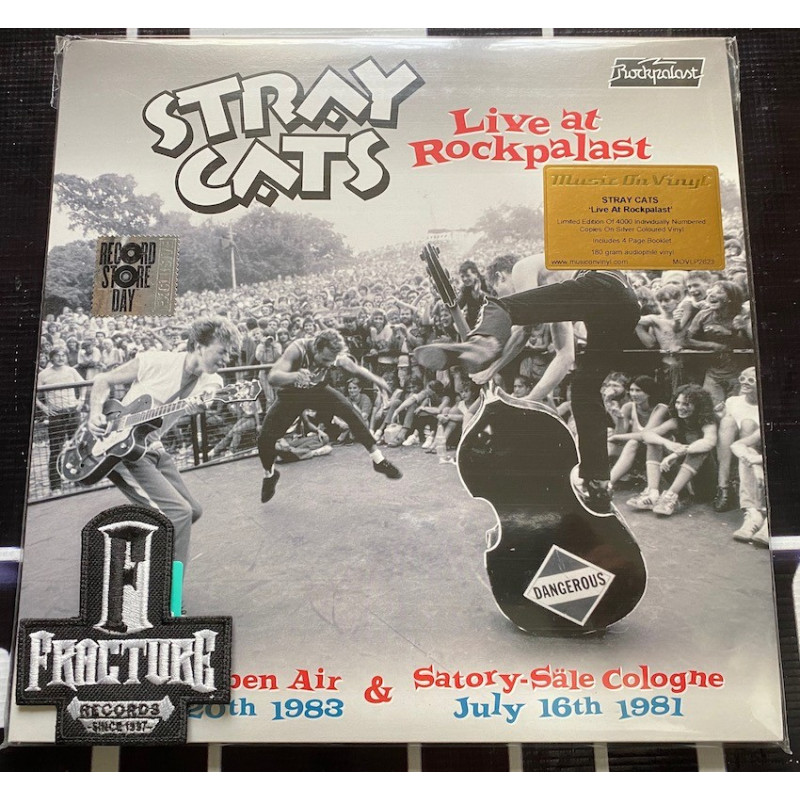  
STRAY CATS-LIVE AT ROCKPALAST (RSD BF 2021) 3 VINYLOS PLATEADOS
3 VINYLOS PLATEADOS RSD BLACK FRIDAY 2021
POLITICA DE ENTREGA Y PAGO
100 % SEGURO
DEVOLUCION
DEVOLUCION
3 VINYLOS PLATEADOS RSD BLACK FRIDAY 2021
This set presents two Stray Cats shows, recorded in Germany at the height of their powers. The first set is actually the latter of the two (1983), recorded just before the release of their third album, as they're playing a big outdoor festival. The second set is earlier, from 1981, and you can hear a hungry young band as they tear into their set with a punk ferocity. This release lets you hear how exactly the Stray Cats established their reputation as a great live band.
This triple album is now available as an RSD Black Friday exclusive in a tri-fold sleeve with a four page booklet, individually numbered on silver vinyl, limited to 4000 copies worldwide. 



LORELEY OPEN AIR, AUGUST 20th 1983
Side A 
1. Baby Blue Eyes
2. Double Talkin' Baby
3. Rumble In Brighton
4. Drink That Bottle Down
5. Something Is Wrong With My Radio
6. Built For Speed
Side B
1. Look At That Cadillac
2. Runaway Boys
3. Lonely Summer Nights
4. Too Hip, Gotta Go
5. Stray Cat Strut
Side C 
1. She's Sexy And 17
2. Banjo Time (Foggy Mountain Breakdown)
3. The Race Is On
4. Tear It Up
5. Oh Boy
6. Rock This Town
SATORY-SÄLE COLOGNE, JULY 16th 1981
Side D
1. Sweet Love On My Mind
2. Double Talkin' Baby
3. Rumble In Brighton
4. My One Desire
5. Ubangi Stomp
Side E
1. Drink That Bottle Down
2. Storm The Embassy
3. Stray Cat Strut
4. Fishnet Stockings
5. Important Words
Side F
1. Rock This Town
2. Runaway Boys
3. Somethin' Else
4. Gonna Ball.
Si no encuentras lo que buscas, por favor ve a "CONTACTAR CON NOSOTROS" o escribe un correo a fracturerecordsmatriz@gmail.com y pregúntanos por tu artículo. Muchos de ellos los trabajamos de manera personalizada.
Los precios están sujetos a cambios sin previo aviso.